Logo
On the trail of Romeo & Juliet: a romantic tour of Verona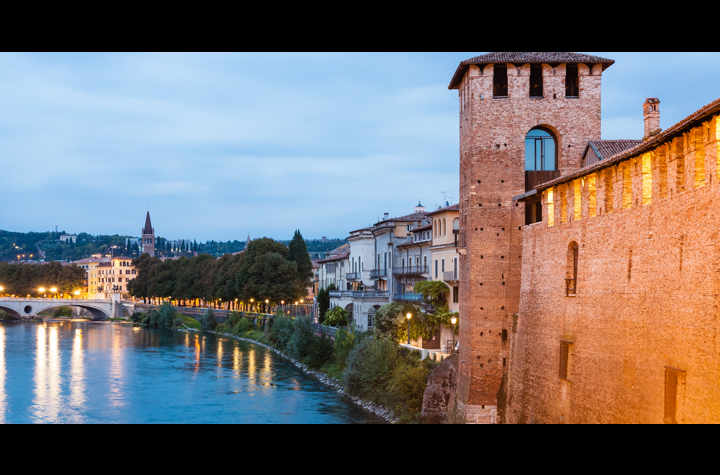 Free cancellation or change up to 24 hours before the tour.
The experience
Duration: 4 Hours


Experience romantic Verona with one of our local soulmates, who will show you all of the most famous spots, as well as some of his or her personal favourites. On this tour you will also have the opportunity to visit a private palazzo and enjoy a glass of prosecco and Italian finger food - for a sparkling end to your visit.
Private city tour with a Veronese soulmate
Journey back in time to the days of Shakespeare's love story, Romeo & Juliet
Exclusive visit to a palazzo, with an aperitif in the courtyard
Description
Baroque architecture, Roman history and Shakespeare's most famous romance: these are what gives Verona its flair. Your exploratory tour from the world-famous Ponte Pietra via the Piazza delle Erbe to the house of Romeo and Juliet will eventually bring you to one of the city's most imposing private palaces - the Palazzo Erbisti. In its Baroque atmosphere you can reflect on what you have seen on this impressive tour of Verona over a glass of prosecco and finger food...
Included services
Private guided tour of the city
Private guided tour of Palace Erbisti followed by an aperitif
Not included
Other foods and beverages
Additional information
Meeting point at VIAROMA33 Cafe at 09:50.
Participants: up to 6 people
Languages: German, English, Italian
Address
Castelvecchio, Corso Castelvecchio, Verona, Italien
Location / Meeting point
Meeting point at VIAROMA33 Cafe at 09:50.
Train stations and bus stops
Bus stop Castelvecchio
Give this experience as a gift with a voucher box
Simply choose in checkout from the additional offers the voucher box to receive the voucher in a gift box.
What is in the voucher box? Only the best of the best - exclusive, high quality and carefully put together for you. From the packaging material to the experience.
Value voucher: printed on environmentally conscious paper
Card holder: decorative element made of wood, manufactured in South Tyrol
Description: step-by-step instructions on how to redeem the voucher
Find a voucher now