Logo
Find out about beer - and make your own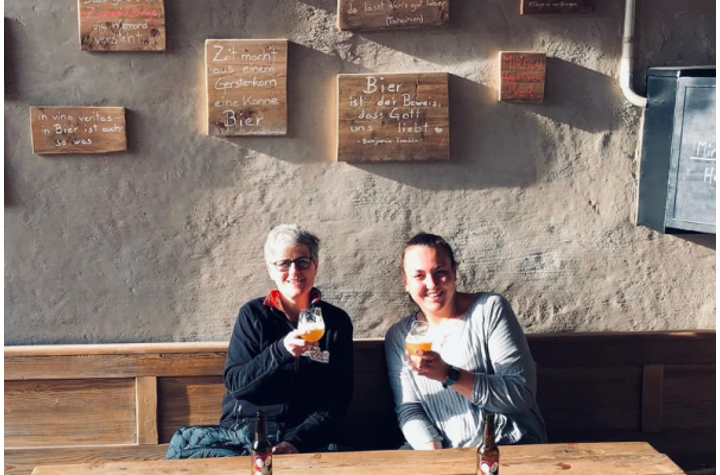 The experience
Duration: 1 Day


Where did beer originate from? What ingredient determines its colour? And how is beer made? Immerse yourself in the fascinating and complex art of beer-making with our beer-brewers. As well as tasting various beers, you will also make your own at this workshop.
Introduction to the world of beer - from the history of its development to its production
Sensory evaluation and tasting of different beers
Brew your own beer
Typical "Halbmittag" (Tyrolean second breakfast) and lunch
"
We, Andrea and Brigitte, love beer and everything that comes with it. On our brewing system we experiment with different raw materials and recipes. In short: all creative ideas are tried! The results are varied: from elderflower spumante, maibock, whisky-vanilla stout, hibiscus saison to the classic lager and doppelbock.
Description
Light, pils-like, malty, smoky: beer is a cult drink of many facets, with an exciting story to tell. With our soulmates you will sample different varieties and, enlightened by all sorts of interesting background information, you will learn to taste the subtle differences. And as newly initiated beer experts, you will then proceed to make your own beer step by step. Once ready, it will be sent directly to you at home. At "Halbmittag" -the traditional South Tyrolean second breakfast - and lunchtime, you will also be served typical brewery dishes. So cheers - and guten Appetit!
Included services
Typical "Halbmittag" (Tyrolean second breakfast) and lunch
Home brewed beer (about 50 l)
Cancellation fees
7 calendar days to 48 hours before tour: 20% of the ticket price
Within 48 hours before tour: 100% of the ticket price
No-show: 100% of the ticket price
Additional information
The workshop starts at 9:00 am and will last until 5:00 pm. After brewing, the beer needs 4-8 weeks to ferment and mature. Then it is bottled and is ready to be picked up.
Participants: up to 5 people
Languages: German, English, Italian
Address
Die Biermacherinnen, Moos, Ulten, Autonome Provinz Bozen - Südtirol, Italien
Location / Meeting point
Start: at 9 am End: at 5 pm
Parking
Possibility of parking
Train stations and bus stops
Bus No. 245 towards St. Gertraud, Pumbach stop
Give this experience as a gift with a voucher box
Simply choose in checkout from the additional offers the voucher box to receive the voucher in a gift box.
What is in the voucher box? Only the best of the best - exclusive, high quality and carefully put together for you. From the packaging material to the experience.
Value voucher: printed on environmentally conscious paper
Card holder: decorative element made of wood, manufactured in South Tyrol
Description: step-by-step instructions on how to redeem the voucher
Find a voucher now