Logo
Dolomites from above: Fly high - in a hot air balloon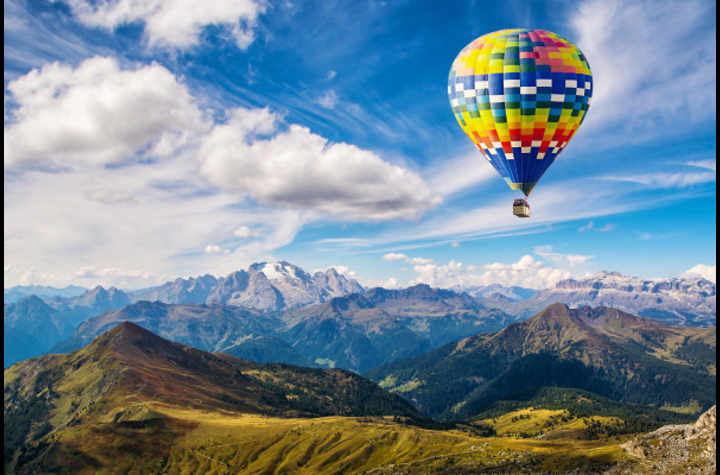 The experience
Duration: 3 Hours


All aboard, burner on, up goes the balloon - and you're off! Once you reach an altitude of 2,000m above sea level, an extraordinary view over a fascinating mountain landscape will open out beneath you. After floating gently back down to earth, you will be given your flight diploma and an aperitif accompanied by delicious appetisers.
A bird's eye view of Val Pusteria valley
Take a personal flight diploma back home with you
Taste local specialities after landing
"
Our profession is much more than just a hobby for us. We work with full passion and have years of experience. We are happy to pass on this passion to our profession. Ballooning is also our own dream.
Description
There is something fascinating about looking down on the world from above. All the more so if you are involved in preparing the flight vehicle. Exactly which route will be taken is of course down to the prevailing wind on each flight. What is certain, however, is that the flight will give you a break from everyday life, you will see the spectacular mountains from above, you will be fascinated by the technical achievements of humankind, and the whole experience will of course be unforgettable!
Included services
Balloon flight
Small breakfast with local products
Cancellation fees
7 calendar days to 48 hours before tour: 20% of the ticket price
Within 48 hours before tour: 100% of the ticket price
No-show: 100% of the ticket price
Additional information
Starting point: NiederdorfEnd point: After the experience you will be brought back to the starting point by car
Participants: up to 4 people
Languages: German, English, Italian
Address
Piazza Von Kurz, 5, 39039 Villabassa, BZ, Italien
Location / Meeting point
Starting point: the meeting point is at von Kurz Square. From there the team will take you to the starting point of the experience. After the experience you will be brought back to the starting point by car
Parking
Available parking spaces in Villabassa
Train stations and bus stops
Train from Fortezza to the Villabassa-Braies stop
Give this experience as a gift with a voucher box
Simply choose in checkout from the additional offers the voucher box to receive the voucher in a gift box.
What is in the voucher box? Only the best of the best - exclusive, high quality and carefully put together for you. From the packaging material to the experience.
Value voucher: printed on environmentally conscious paper
Card holder: decorative element made of wood, manufactured in South Tyrol
Description: step-by-step instructions on how to redeem the voucher
Find a voucher now