Logo
Winter brunch in the Morning light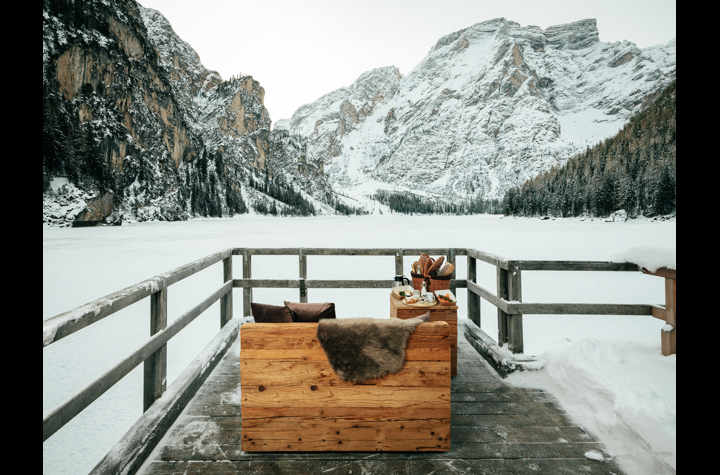 Free cancellation or change up to 24 hours before the tour.
The experience
Duration: 2 Hours


A frozen lake, the snow-covered Dolomites all around and only you and your favorite person at the jetty: from here you can breathe in the tranquility of the enchanting winter landscape. Let the incomprehensible beauty take effect on you. And start the day with a soothing breakfast of local delicacies.
Experience the world famous Braies Lake in the winter morning light
Get exclusive access to the heated jetty
Enjoy delicious brunch in the unique winter landscape
Description
When the first rays of sunlight fall on the imposing Seekofel, the frozen lake also slowly shines in its full beauty. In order to observe the natural spectacle as long and undisturbed as possible, it is best to come in the morning, when everything is still quiet and glistens to itself. Protected from the cold temperatures, you can enjoy a delicious breakfast in the heated jetty. At the end you will receive a small gift from us as a souvenir. What will that be? We'll only tell you this much: a real treat for the palate.
Included services
Access to the heated jetty (2 h) 
Punch with seasonal finger food (also vegan or vegetarian)
Additional information

Participants: bis zu 6 Personen
Languages: German, English, Italian
Address
Lago di Braies, Braies, Autonome Provinz Bozen - Südtirol, Italien
Location / Meeting point
Meet at the wooden jetty directly on the lake at 10:00.
Parking
Parking space available (for a fee)