Logo
Forest essence: Mindful forest bathing for inner balance and connection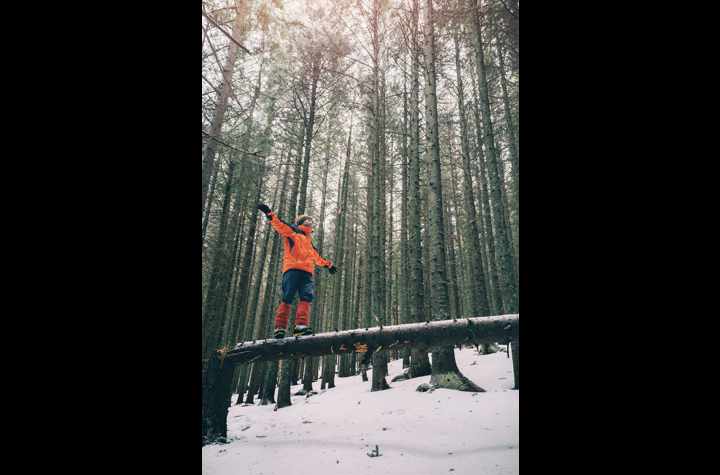 Free cancellation or change up to 24 hours before the tour.
The experience
Duration: 2 Hours


Forest bathing in winter offers a special opportunity to more consciously experience the peace and tranquility of the forest at this time of year. During this activity, various practical and dynamic exercises are offered to inspire you to connect more deeply with the forest and its elements. The goal is not only to experience the forest with your primary senses (sight, hearing, touch, smell), but also to engage your authentic feelings. In this way, a resonant space is created between the quiet splendor of the forest and one's own sensations. The forest presents itself as a state of realization in which desires come true without effort.
Experience a unique connection with nature in the midst of winter silence
Experience health benefits from the cool winter air and its stimulating effect on body and mind
Experience self-reflection and inner peace through mindful immersion in the forest atmosphere
"
The Forestling project combines my passion for nature and my natural inclination towards interpersonal relationships. In addition to certified paths, I emphasize presence and calm, strengthened by health crises. All paths reflect my best energies and responses, characterized by sensitivity and intuition.
Description
Forest bathing is for individuals, couples and groups who want to improve their quality of life, manage stress and deepen relationships. The process begins with an introductory gathering in the forest to create a relaxed atmosphere. Participants consciously perceive nature, direct their senses to sight, hearing, touch and smell, and mindfully explore the forest. Practical exercises, such as meditations and breathing exercises, promote sensory perception and intensify the connection to nature. In a moment of reflection, participants reflect on their experiences and emotions during the forest bath. This is followed by a joint exchange where participants can share their experiences and talk about the positive effects of forest bathing. Finally, questions are answered, recommendations for further exercises are given and the integration of the gained knowledge into everyday life is supported. The goal of forest bathing is to create a conscious and healing connection to nature, reduce stress and improve the relationship with oneself and others.
Client requirements
Warm & weatherproof clothing
Hiking boots
Additional information

Participants: up to 6 people
Languages: German, English, Italian
Address
Bressanone, Autonome Provinz Bozen - Südtirol, Italien
Location / Meeting point
The various possible locations of Cortina d'Ampezzo (BL), Val di Non (TN), Toblach (BZ), Bruneck (BZ), and Brixen (BZ) can be seen in the attached PDF.
Give this experience as a gift with a voucher box
Simply choose in checkout from the additional offers the voucher box to receive the voucher in a gift box.
What is in the voucher box? Only the best of the best - exclusive, high quality and carefully put together for you. From the packaging material to the experience.
Value voucher: printed on environmentally conscious paper
Card holder: decorative element made of wood, manufactured in South Tyrol
Description: step-by-step instructions on how to redeem the voucher
Find a voucher now